License Change Notification
**Our pricing for the Unlimited product will be changing on the 15th May 2017. Please read our notification for further details.**
Determining Software Pricing
Purpose and Introduction
The purpose of this is to help licensees understand the IMan software pricing. This is a guide only and does not form part of the End User License Agreement (EULA). Please refer to the EULA for all terms and conditions, including fees which will depend on your particular software configuration.
To determine the correct software price there needs to be some knowledge of the software integration requirements.
IMan software is a backend system and therefore does not have a simple price metric such as user count. In calculating the software price the key considerations are the number of integrations (or data-flows) and the connectors required to support the integration.
Key Concept – A Single Integration
A single integration is a data or work-flow where there is a start point and one or more endpoints (dependent on restrictions below) – it is a single autonomous unit of work.
An integration can be loosely thought of as a single item in the Job Drop-Down in either the Design or Schedule screens.
Key Concept – Base/Core Product
The base product contains all functionality for designing & scheduling integrations. It includes all the core data transformation functions and the support to extract and write to the following data formats: CSV/Text; OleDB/ODBC; Xml; JSON & Excel.
Licensing Consideration
Every instance must have a Base IMan product.
Key Concept – Connectors
Connectors provide the native connectivity to integrate with an application such as Sage300, Sage Enterprise Management, Sage200, SageCRM, Magento, Amazon, etc via its API.
The restricted integration count licenses limit the number of connectors allowed on any single integration. See below for more details.
Licensing Consideration
Every IMan instance can have 0 or more connectors.
Using the Realisable Software Price List
After determining your required IMan software configuration, refer to the Realisable Software Price List. Starting with the price of the core product, then add the price of any required connectors.
Software Assurance
Software assurance is 25% of total purchase price. Software assurance is mandatory the first year, and is due each year from the date of purchase.
Lapsed Software Assurance
IMan licenses are perpetual and IMan will continue to function.
Customers not renewing software assurance will not be entitled to upgrades, or bug/hotfixes.
Customer's where IMan software assurance has lapsed will need to pay:
Software assurance from the point of lapse to the current day.
The full year's software assurance.
A 25% surcharge.
Licensing Examples
The following screens are taken from the IMan designer to demonstrate the license concepts described above.
Figure 1 – A single integration with a single connector.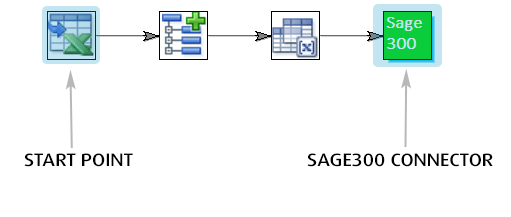 Figure 2 – A single data source can import data into multiple parts within a company or into multiple companies. In the below example the upper connector first creates or updates a customer, and the second bottom connector creates a sales order.

IMan License Restrictions
The following table describes the restrictions on each version of IMan software.
| Feature | 10+ Integration | 2 Integration | 1 Integration |
| --- | --- | --- | --- |
| Number of Integrations | 10 Initially. Additional 10 packs can be purchased. | 2 | 1 |
| Number of Connectors Per Integration | Unlimited | 4 | 2 |
| Number of Start Points Per Integration | Unlimited | 1 | 1 |
Restriction #1 – Number of Integrations
The primary license restriction is based around the number of integrations allowed on a single installation of IMan software.
10-Integration License
The 10-Integration product comes with 10-integrations. Additional integrations can either be purchased through the in-app licensing purchase or with the initial purchase.
Licensing Consideration
When deriving the IMan price the 'integration count' of the base/core product and any connectors cannot be mixed. E.g. An 10-Integration base product must use 10-Integration connectors; conversely a 1-Integration connector cannot use an 10-Integration base product.
Remember to work 'column wise' when using the Realisable pricelist.
Example
The screenshot below shows two integrations. Additional integrations cannot be added unless the license is upgraded or an integration deleted.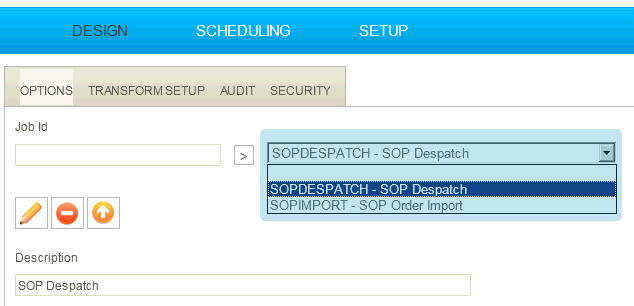 Restriction #2 – Number of Connectors Per Integration
The 1, 2 & 3 integration licenses place a limitation on the maximum number of connectors per any single integration, where the 1-Integration license permits a maximum of two connectors of any one type and the 2- & 3- integration license permit a maximum of four connectors of any one type.
Licensing Consideration
If five or more connectors of any one connector type are required in any single integration a 10-Integration license is required.
Example
The screenshot below illustrates a job with seven connectors.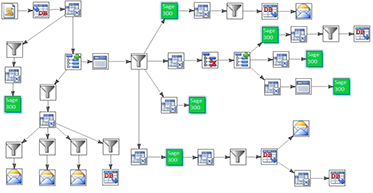 Restriction #3 – Number of Start Points per Integration
Only the 10-Integration license permits any single integration to have more than one start point.
Example
The example below shows a single job with seven start points.