Magento Connector
The Magento Connector for IMan provides bi-directional integration allowing you to integrate a range of Sage applications (SageX3, Sage300, Sage200, Sage50, SageCRM & SagePay) with the Magento eCommerce platform.
Coupled with IMan's comprehensive data transformation and connectivity with Sage applications means order processing workflows can be customised according to your business process:
Full support for all Magento transactions: Orders, Shipments, Invoices & Credit Memos raised in Magento can be imported into your Sage application. This provides flexibility as to whether order processing is managed in Magento or your ERP solution.
Ability to dynamically create Customer Accounts and Stock Items in your Sage application per your business' process.
Upload of master data such as Customer Accounts, Items, Pricing & Inventory from your Sage ERP, Accounting or CRM solution to Magento.
Upload from your Sage application shipment transactions including shipment tracking information.
Extensive email capability such as alerts to customer services and/or sending of customer facing documents such as order & shipment confirmations.
IMan's flexibility means custom & business specific processes can be incorporated into any data flow. For example, auto-purchase order generation for businesses with back-to-back sales/purchase order fulfilment or; Warehousing/WMS/logistics integration or; payment processing & credit checking.
Other Features
Efficient (bulk) upload of both product, product categories and customer records.
Efficient (bulk) download product data and product categories, thereby enabling Magento to act as your Product Data Master (PDM).
Shipment uploads can trigger email confirmation from Magento.
Support for Multi-store/Multi-website Magento sites.
Support for Magento's configurable items, product options &s; bundles.
Configurable field length restriction to prevent customers for example from entering addresses to long to fit into your Sage product.
Support for Amasty Order Attribute extension.
Order Status and other key data such as Sage order number, shipment number, etc can be updated back to Magento as orders are approved, picked, shipped & invoiced.
Multiple order payment support.
A set of pre-configured integrations has been created allowing you to rapidly integrate Magento with your Sage application.
All integration is made with Magento is through it's webservice API or through our new endpoints for bulk upload/download, therefore security and integrity of Magento is ensured, and naturally all integration with Sage products is through the applications' respective API.
Seamless integration & tight integration between Magento and any of our supported Sage products.
Compatible with Magento versions CE 1.4-1.9.x, EE 1.6-1.14 & 2.x upwards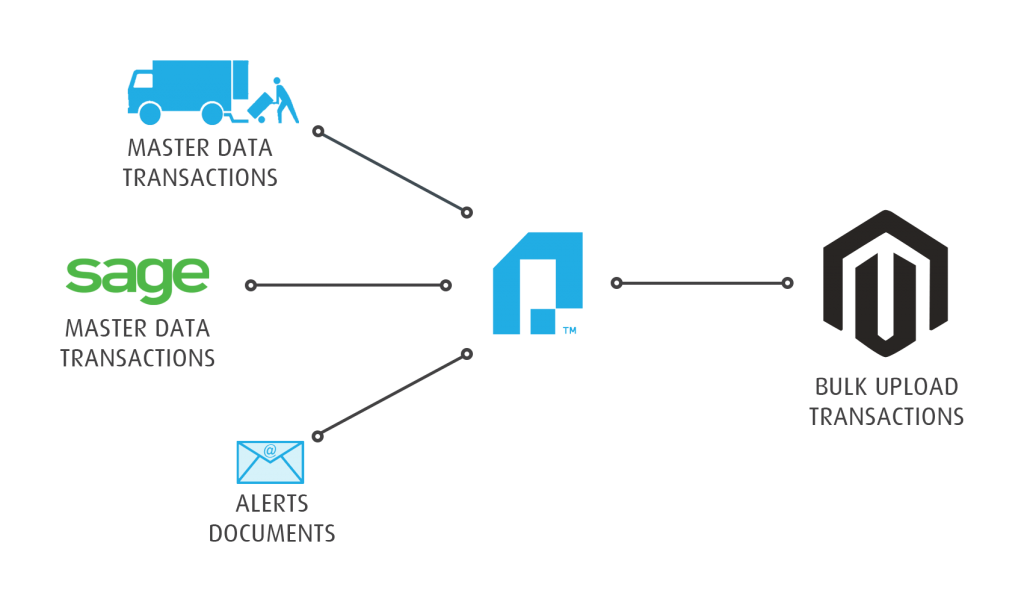 Demonstration
The following video demonstrates IMan integrating Magento with Sage200.