Inventory Challenges in Multi-Channel Retailing
Inventory Challenges in Multi-Channel Retailing
When doing any eCommerce or marketplace integration one of the key questions & decisions is around stock handling in multi-channel retail businesses.
This post describes the challenges businesses face, particularly those with longer assembly and manufacture times or those operating a resell business.
We need Real-Time stock!
The nirvana! Once upon-a-not-too-distant-past this was nearly possible.
Your ERP system was your master, and only inventory store. Your sales/customer services team would enter orders into this system; your stock would be dispatched & received into this system. There was only a single truth.
In this age of multi-channel reselling this simply isn't possible.
What is real-time?
To us, a real-time system reacts almost instantly i.e. to the microsecond, or millisecond. Examples of real-time systems are avionics and flight control systems.
OK, so you may not need that level of accuracy. The point being that any multi-channel retailing will be subject to considerable timing issues making a global, consistent view of inventory in real-time or even accurate to 5 minutes impossible. There are just too many moving parts.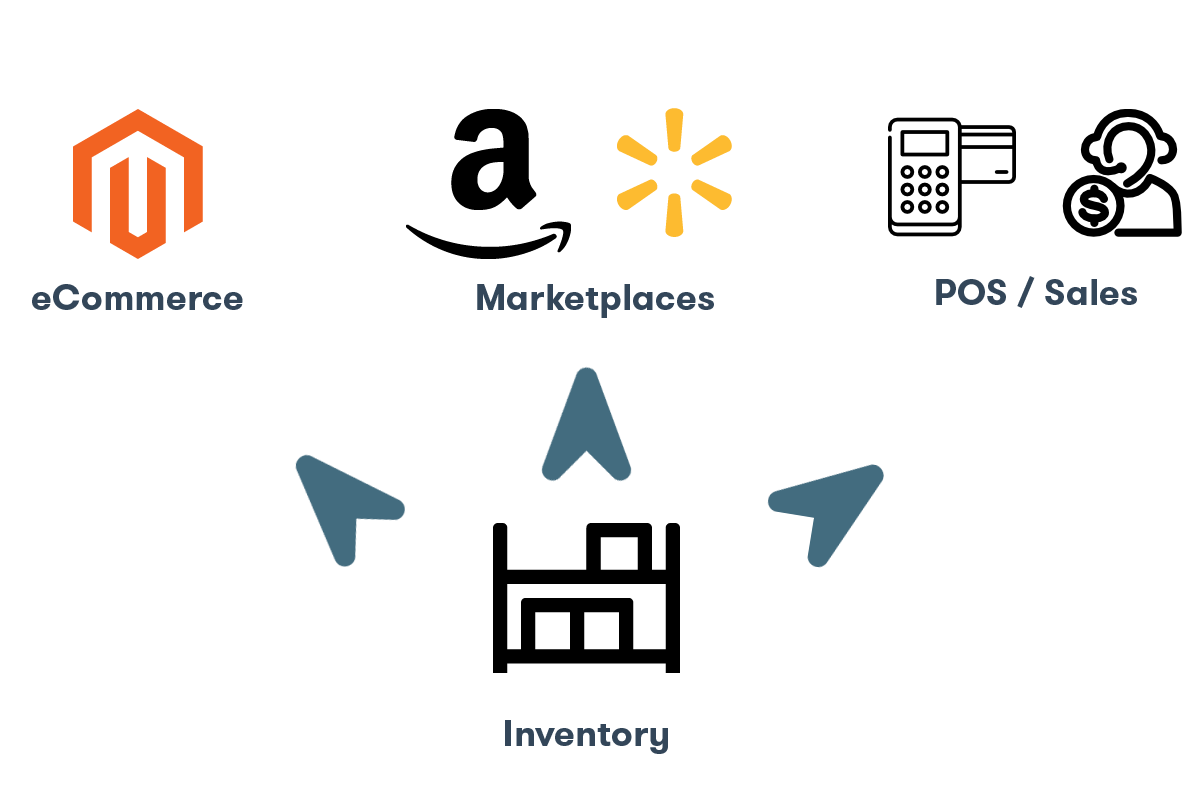 Challenges
Let's first tackle the challenges with inventory updates across the different channels.
eCommerce
Your eCommerce store in almost all cases will maintains its own copy of inventory. Self-hosted eCommerce stores e.g. Magento, WooCommerce may have facility to update/synchronise inventory quickly and many times throughout the day. This instance allows you to get pretty close to a consistent inventory.
Hosted solutions such as Shopify however limit or throttle the number of updates. Large number updates will be delayed by seconds or minutes.
Marketplaces
If you update a marketplace's available inventory, that marketplace has another view or copy of inventory. Marketplaces are typically bound by the same restrictions which apply to hosted eCommerce stores i.e. you are limited with the number of updates you can make to that inventory.
Compound this with that some marketplaces can more easily updated than others.
Amazon requires the same heavy weight batch update to update a single item as updating many thousands of items. Furthermore, the update is asynchronous i.e. your request gets put into a queue where it could take anywhere between a few seconds to a number of minutes to process. In addition the number of inventory updates is subject to throttling. In essence Amazon really expects sellers to batch their entire inventory and for that inventory to be updated several times a day.
Other marketplaces such as Walmart however can be updated with either a single lightweight JSON REST request or with a batch upload; but both are subject to throttling.
Order Processing
You may be able to get your eCommerce solution to post orders into your ERP within seconds, but Marketplaces require you to poll for new orders. Polling across multiple channels may take several minutes dependent on response time and dependent on any request throttling.
If you combine this with other sales channels such as Point of Sales and salespeople entering orders through a mobile or tablet based application you end up with a lot of contention around available stock, particularly around fast selling items.
What are the remedies?
Segmented Stock
If you're selling through a number of channels this may not be appropriate. However, you may wish to consider this approach for fast selling channels such as Amazon or your top 10 best-selling items.
Safety Stock
In this approach you maintain a reserve quantity of inventory. Channels can sell their given quantity, and there should be enough inventory to satisfy each order.
This isn't failsafe, and you need with analysis and planning you should be able judge the expected sales with consideration around the marketplace rules, such as cancellations, maximum time to ship, etc.
Conclusion
Don't be fooled, there is no easy solution! You need to pick a solution which is suitable for your business or contact us to discuss your problem.