Sage Accpac/Sage300 Connector
IMan and the SageAccpac/Sage300 connector allows you to integrate virtually any application with SageAccpac/Sage300.
To provide you a flavour of what can be achieved, some of our previous projects have included:
eCommerce & webstore – we've integrated a variety of commercially available and custom developed websites with SageAccpac/Sage300.
Purchase & procurement/EDI – integrating with a number of purchase and EDI providers.
Manufacturing systems.
Distribution and warehouse management – complex transactional integration with a number of third party logistics (3PL/4PL) providers.
Timesheet, billing & job costing.
Point of sale – integrating a variety of POS systems integrating with the G/L, A/R and cashbook modules.
Business process automation – automation of complex business processes such as: order & payment gateway processing; intercompany transactions e.g. back-to-back sales & purchase order processing, A/P, A/R & G/L transactions and; time and billing approval.
Banking transactions and reconciliation – importing of bank services and A/R receipts transactions to automate and streamline clumsy, lengthy & error prone manual processes.
Data feeds/automated data capture – importing data from a variety sources such as Excel and CSV files to speed or automate repetitive data entry tasks.
Features
All integration is made through the Accpac views ensuring data is validated and business logic maintained.
All errors and warnings are logged. As our connector works through the views, errors and warnings are consistent with those generated when entering data manually.
We provide seamless support for Accpac's optional fields, full tax support and multicurrency.
We smooth out the inconsistencies of the Accpac Object Model/views by providing a consistent record-field based user interface. Where there are shortcomings in the views we add the necessary logic and messaging.
Key transactional data (order & document numbers, batch Ids & entry numbers) is captured at time of processing and can used for detailed audit reporting and/or written back to the IMan dataset to facilitate complex transactional processing.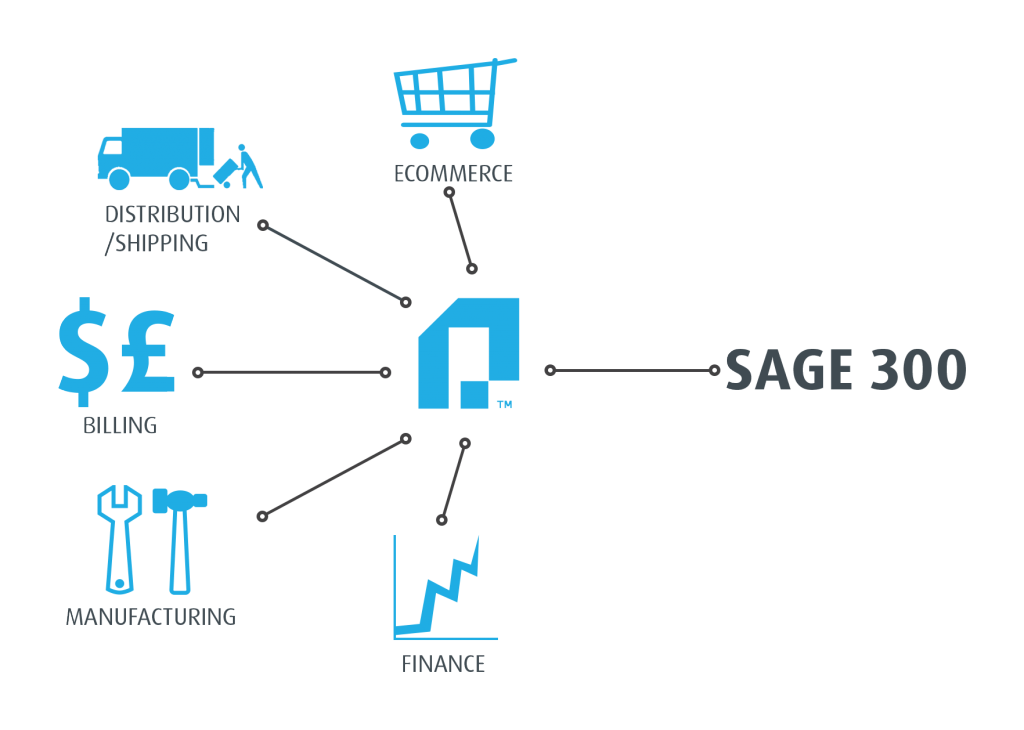 Demonstration
The following video demonstrates IMan integrating Magento with Sage300.
Supported Integration Points/Imports
The following list is the supported transactions/master data types.
If a data type is not listed, whether it's a core Accpac/Sage300 module we will add the necessary functionality & support 3rd Party modules can also be provided.
G/L Accounts
G/L Journals (inc. Intercompany)
G/L Budget Sets
A/R Adjustments
A/R Customers
A/R National Accounts
A/R Ship-To Addresses
A/R Customer Comments
A/R Invoices
A/R Invoice Printing
A/R Items
A/R Receipts (Applied, Prepayments, Unallocated Cash & Miscellaneous)
A/R Recurring Charges
A/R Refunds
A/P Vendor
A/P Vendor Comment
A/P Remit To Locations
A/P Invoice (inc. Intercompany)
A/P Payments (Applied, Prepayments & Miscellaneous)
A/P Recurring Charges
A/P Adjustments
I/C Item
I/C Item Pricing
I/C Location Details
I/C Vendor Pricing
I/C Customer Item Pricing
I/C Manufacturer' Numbers
I/C Adjustments
I/C Assemblies
I/C Internal Usage
I/C Transfers
I/C Stockcounts
I/C Receipts
I/C Shipments
I/C Bill Of Materials
I/C Kitting Items
I/C Serial & Lot Number Reconciliation
O/E Orders (and quotes)
O/E Order Confirmation Printing
O/E Pickslip Printing
O/E Shipments
O/E Invoices
O/E Invoice Printing
O/E Credit Notes
O/E Credit Note Printing
P/O Purchase Orders
P/O Purchase Order Printing
P/O Receipts
P/O Invoices
P/O Credit/Debit Notes
P/O Vendor Contract Costs
P/M Contract & Project (Insert & Update)
P/M Timecards
P/M Costs
P/M Charges
P/M Materials Usage
P/M Materials Usage Returns
P/M Materials Allocation
P/M Equipment Usage
Canadian Employees
Canadian Payroll Timecards
US Employees
US Payroll Timecards
B/K Bank Entries
B/K Bank Entry Reversals
T/X Tax Entries
C/S Exchange Rates
Norming Asset Management Acquisitions
3rd Party Modules
The following 3rd party modules are supported. Please note these are provided through a dedicated 3rd party module license.
Autosoft – Bills of Materials
Autosoft – Manufacturing Orders
Autosoft – Shop Entries
Norming Asset Management Acquisitions
Orchid RMA Entries
Orchid Info Manager Notes
Peresoft Cashbook Entries (inc. A/R and A/P Entries)
SYSTRONICS Cashworks Entries
Technisoft Service Manager Jobs (Insert & Update)
`