With rapid eCommerce adoption, the online shift of retailers & wholesalers with the accompanying increase in transaction volume the need to integrate front end eCommerce platforms with their back-end systems is paramount.
IMan provides a bridge between your eCommerce platform and your Sage ERP, Sage Accounting or Sage CRM solution by providing a robust, highly flexible integration & middleware platform.
IMan's code-free, configuration based integration platform for Sage50, Sage200, Sage300, SageCRM & SagePay can integrate a wide variety of both commercial solutions, hosted platforms and custom developed webstores/CMS.
In addition, IMan's configuration based integration designer can reduce cost by 60% and time scales by 70% compared with custom development.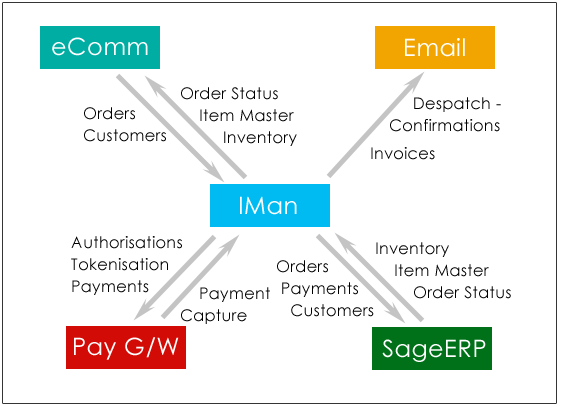 Purpose developed connectors for Magento, ASP Storefront & the WordPress Shop Plugin.
IMan's deep data connectivity for File (CSV/Text, Xml, Excel), Database, WebServices & FTP/SSH gives you the flexibility and breadth to integrate almost any other eCommerce solution without development.
IMan can handle all the standard touch points for eCommerce integration such as Inventory, Pricing & Order Status uploads and Sales Order & Customer (Pre) Payment import.
IMan Matches Your Business – IMan is highly flexible and supports a large number of integration points with Sage's ERP, Accounting & CRM products allowing you to incorporate logic to automate processes specific to your business, functionality which is simply not available in purpose built integrations. Example of custom processes handled by IMan:
Back-to-Back Sales/Purchase Order Processing
Stock Checking, Allocation & Order On Hold
Warehouse Automation
Address Verification
On-the-fly customer & item creation.
Dynamic Order Comments & Shipping Charges
Automate outbound customer facing emails such as order confirmations, shipment notices & invoices.
Payment Gateway integration with SagePay & Cybersource can process transactions such as Payment Capture and Tokenisation not available through the standard gateway connectors of the eCommerce platform or accounting solution.
IMan has successfully integrated of a wide variety of eCommerce platforms. See case studies here & here.
Always on, windows service based scheduling for near real-time data exchange.
With IMan you can effortlessly integrate your eCommerce platform with your Sage ERP and SageCRM solution.